#SNSColour Instagram Style Challenge
March 05, 2015
I love a style challenge, even if they re-affirm the fact I have ABSOLUTELY NOTHING TO WEAR EVER.

When I saw this one by Style and Shenanigans pop up on Instagram, I thought it looked pretty do-able but it was a lot harder than I thought.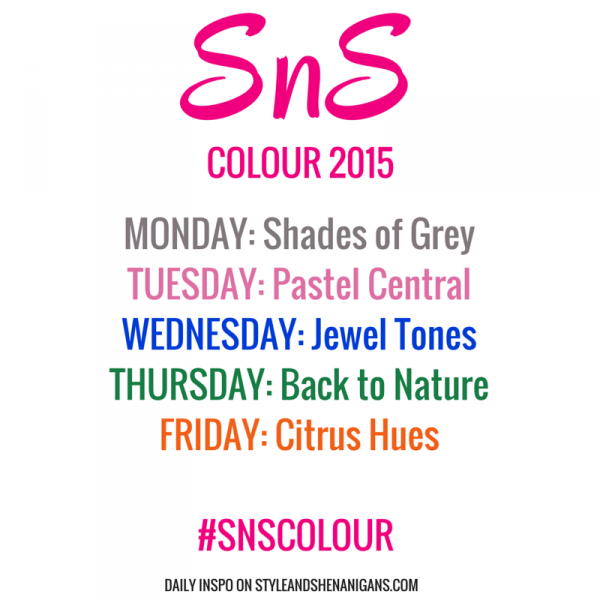 Sounds easy right?
Monday: Shades of Grey
I used to have loads of grey in my wardrobe, absolute loads. Charcoal was my best thing. Now? Very little.
Kmart tee
Review skirt via eBay
Diana Ferrari silver flats (ancient)
Tuesday: Pastel Central
I don't work on Tuesdays and I was only slobbing about at home so I chose to do a flatlay for this one.
Vintage bag,
TEMT shirt, Lovisa necklace, Breakers jeans
E.L.F eyeshadow palette in "Butternut", MAC lip glaze and Converse hi-tops
Wednesday: Jewel Tones
Another struggle because jewel tones remind me of my mid-90s Year 12 formal where almost everyone was in sapphire, ruby or emerald crepe spaghetti-strap dresses. (Me? I wore a black velvet goth-type arrangement despite not being an actual goth).
Target top
Rivers patterned pants
Target black ballet flats
Nine West bag from Macy's
Kate Spade "Annika" sunglasses
Thursday: Back to Nature
Another non-working day but I did get out and about for "lunch" with Bridie at Bracegirdles. Said lunch being a shared chocolate fondue platter. Hey, she's pregnant, I'm not going to argue. I also didn't have much in the way of nature print or anything green, so I went for this necklace and my leopard print ballet flats.
Best & Less striped tee
Vintage leaf pendant from Re-Gen op shop
Friday: Citrus Hues
Total and utter fail on this one, it was 37 degrees and all I had was an orange cardi.So I put on some orangey lipstick as a token gesture.
Gok Wan glasses from SpecSavers
Australis Velourlips Matte Cream in
Mi-A-Mee

Bonds tee
Random Bonus
I went out in town on Saturday night, which I rarely do. So here's what I wore:
Bardot dress
Target gladiator sandals
vintage Ultramesh clutch from the Salvos
Big W rose gold tassel necklace
Mimco bracelet
Now embarking on April Nicoll's #AprilsAutumn Challenge . . .