Fashionomics Friday || Hot In The City
November 07, 2014
So, we begin with the weather forecast for Adelaide today, Friday 7 November 2014.
Partly cloudy. Winds north to northeasterly 20 to 30 km/h tending northeast to northwesterly 25 to 35 km/h early in the morning then tending northwest to southwesterly 15 to 20 km/h in the evening. 39 degrees.
I will let Mr B. Idol say it for me here:
Luckily I had managed to catch the forecast yesterday afternoon and immediately booked myself in for a half leg and underarm wax that evening. Yay late night shopping! (and waxing!)
This morning, I rifled through my selection of dresses, looking for something that wouldn't immediately blow up in a stiff breeze and expose my shapewear knickers to one of Adelaide's busiest streets (has happened) or cause me to do a full Marilyn when the elevator lift shaft starts blowing air up through the gap (has also happened).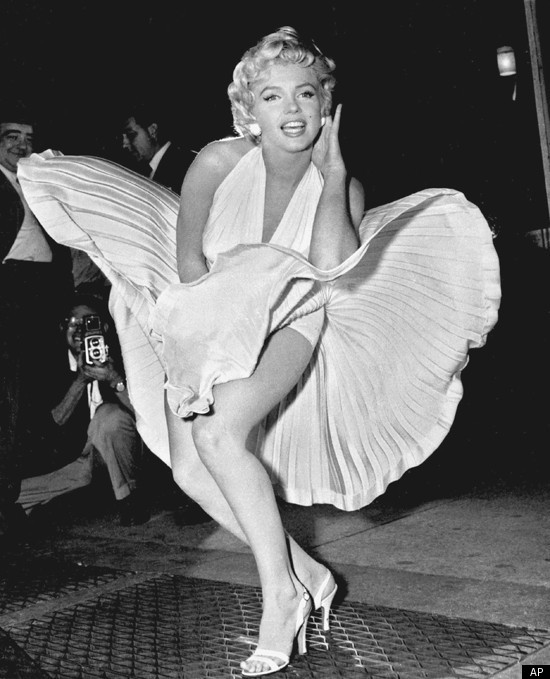 Obvs, I looked this glamourous. Image from Huffington Post.
I settled on this pink, white and navy striped number which I actually bought and wore while heavily pregnant in early 2012. It's forgiving around the stomach area without being a full and floaty empire waist.
There are a lot of bees in this tree, hence my wary expression
I also like the slight ruching detail on the shoulder straps and the fact that the arm holes don't gape and show side-bra which is something that often plagues me with sleeveless items. The buttons are fake which means no gaping. Yay!
On my feet, I have what are fast becoming some of my favourite summer shoes, the white laser-cut slip-ons.
Around my messy bun,
I have wrapped a navy and floral bun twist.
Dress Big W (2012) approximately $25
Shoes Rubi - $15 (2 for $30 deal)
Bun Twist Dollar saver shop - $2
Outfit total - approx $37
(Half leg and underarm wax at Essential Beauty - $32)