Heavy Metal: Australis Metallix and Maybelline Color Tattoo Eyeshadows
May 04, 2015
I had been hanging to see these limited edition metallic eyeshadows in the AC/ME range from Australis Cosmetics.

Although I never actually got to see them in store, they have now been re-released as part of the permanent Metallix range. After trekking around no less than five (5!) different Pricelines, I finally found some to swatch. Even then, there were only three colours available.

I tweeted Australis about it, who said they were available online if all else failed. Well, yes but to someone who vehemently opposes paying shipping for orders under $50, this isn't an acceptable option. $50 on Australis products is a lot, and my makeup budget is already in deficit. Why isn't Joe Hockey working on THAT pressing problem, hmm?

Anyway, as I was saying, swatches:



L-R: Plumdiddy, Pearl Jammin', Jay-Zed
Whereas in the limited edition range the logo gave a nod to Australian rock veterans AC/DC, the new Metallix logo gives props to hair metal band Metallica, which I guess is fitting, being, you know, metallic and all. I would have liked to have seen the Australian theme continue (being an Australian company) and all of the shade names are based on American artists.
But that's probably just me / kids today / get off my lawn, etc. I'll wait for a special.
In related news, I wandered into Chemist Warehouse for a completely unrelated reason and was ambushed by the fact they had Maybelline at half price. So I bought the Eye Studio Color Tattoo 24Hr Cream Gel Shadow (that is a LOT of product name) in Bad To The Bronze for a pleasing $5.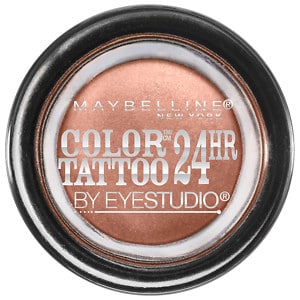 I've not used a cream/gel formula in eyeshadows before and a friend had warned me they were heavily pigmented and to start small and build up so I took that on board. In return, I told her about the sale and facilitated her buying more colours. I'm generous like that.
I'm also wearing Maybelline Dream Wonder foundation and the Color Drama lip pencil in Fuchsia Desire because it perfectly matches my thrifted H&M blazer and Lovisa earrings. Rock!
Please excuse the dent in my nose from my glasses. Does anybody have any tips or tricks to avoid this??
Also, does anyone feel the compulsive need to convert US product name spellings into Australian English? I just want you to know how difficult it is for me to write "Color", that's all.