The Weighting Game
January 05, 2015
In case the fact has escaped your notice; the time is now 2015!

As befits the new year, there is a lot of talk around making resolutions, planning goals and lifestyle changes around fitness while Michelle Bridges, Jenny Craig and Lite 'n' Easy start raking in the big bucks.
I am not fit and rarely have I ever been or cared about it. I've spent most of my life hovering around the size 12 mark, shimmying into 10s at my slimmest and sliding into 14s at the other end of the scale. I like to eat good solid food like pasta and I've never met a potato I didn't like. I'm not that keen on strenuous physical activity. I had a baby nearly two years ago but I'm not sure what the grace period on claiming "baby weight" is before it becomes just regular old fat.
As I get older, it gets harder to shift. Pre-baby, a few months of gym attendance and a reasonable eye on food intake would sort it out. And now that we're all vaxed and hand-sanitised, there is no flu or gastro to get a good kickstart.
(That's a joke. I don't condone purging out of either end as means for weight loss.)
I've been half-heartedly attending the gym in town where I work for about six months. My problem is that I only work three days a week. That's only three lunch breaks to squeeze in any kind of catch-up or celebratory lunch, shopping sans toddler and any other personal admin task I might need to undertake as well as hitting the gym - which should really be three times a week to see any kind of result. I also undertook the Corporate Cup with mixed results and feelings. Mostly bad.
Coming in earlier isn't an option, I'm already up as early as I can be without dying and since my husband leaves the house at 6am, he's not around to either supervise or get bubby ready for the day. Society in general frowns upon toddlers being left alone at home in bed while their mums work on their jelly belly.
So what am I doing about it?
So I have been for two evening runs so far this year and did not collapse in a writhing heap. I actually felt quite good. I'm starting out at 2kms around our hilly neighbourhood with the idea of building up as my fitness (hopefully) improves.
I also need to change my running route to something less vulgar.
I'm just so impatient! I eat a salad for lunch and expect to have dropped a dress size by dinner. I'd be the perfect candidate for scammy quick and easy weight loss tricks if only I wasn't so tight about paying for stuff that isn't cute and wearable.
Although this could totally work . . .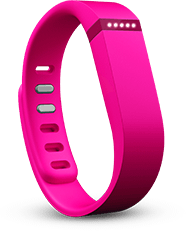 Fitbit Flex - $129 from www.fitbit.com/au/flex
but I've seen it cheaper at JB Hi-Fi and Harvey Norman if you're looking